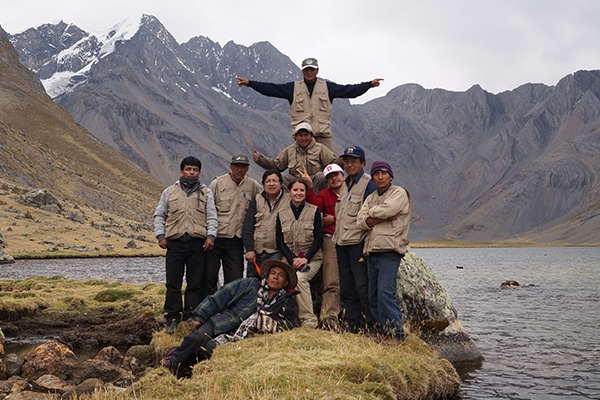 Image Removed
Over 3,000 years ago, pre-Incan civilizations began engineering Puna ecosystems in the Andes by using water technologies designed to slow the movement of water through grasses and soils. When these technologies were fully employed, the Puna retained more water locally, allowed biodiversity to flourish, buffered against flooding and drought, and provided fodder for sustainable sources of meat, cheese, and manure used to cultivate
thousands of native potato, corn, tuber, and hard grain varieties. Today, pastoralist livelihoods and the unique mountain biodiversity are at risk in the region. Climate change effects – such as glacier retreat and changes in precipitation – accompanied by shifts away from traditional practices and technologies have driven the degradation of Puna habitat. Drying Puna wetland have been forcing farmers to concentrate their herds in the few remaining wet areas, with few options for rotating grazing. These farmers understand that in the absence of solutions, Puna habitat will continue to degrade, livestock conditions will worsen, and the ecosystem itself will eventually collapse.
In response to degradation of Puna habitat and declining livestock production, farmers in the Canchayllo and Miraflores communities identified solutions centering on the restoration of pre-Incan hydraulic systems. This ancient technology irrigates grasslands by capturing rainwater in canals and reservoirs and dispersing it across the grassland, thus improving soil moisture, vegetation cover and composition, and increasing infiltration for replenished aquifers and springs. Through the Mountain Ecosystem-Based Adaptation Programme, The Mountain Institute (TMI) has:
Facilitated participatory action-research led by community groups who actively co- designed the solution with external experts, promoting collegial relationships, reinforcing community ownership, and building the foundation for continued innovation.

Helped reconstruct abandoned ancient hydraulic infrastructure using green-grey hybrid solutions that conserve the underlying principles for sustaining Puna ecological services, while incorporating new

materials, such as PVC, to improve functionality during low, dry- season base flow and to reduce the labor required for system maintenance.

Strengthened the communities' institutional capacities to govern and manage their natural resources. The




communities prepared grassland and water management plans that reinforce sustainable practices for improving the condition of the Puna and prevent future community conflicts.
Image Added
Inauguration of a restored water system in Miraflores, Peru.
Click here to read more about the solution The Mountain Institute is promoting in Peru.