Robert Mazibuko: 1904-1994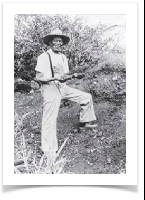 Good morning from Nairobi!  I am suffering from jetlag, and woke up at 4 this morning, as my body thought it was 10! The fun we have when travelling 
 I was also thinking about our upcoming training and then my jetlagged thoughts dream-wandered to the people who inspire us: our thought leaders, our action leaders, our mentors and our guides.  As a teacher, these are always foremost in my mind.  I just completed a  training in Korea, and was again struck by the respect they have for teachers - it makes one's job very easy 
At the same time, I considered my own inspirations: there are so many - teachers, coaches, parents, friends and enemies - yes, often adversaries are some of the best inspirations to action.  But the picture I shared here today is of a relatively unknown man outside of my home country, South Africa - his name is Robert Mazibuko and he was known as the "Tree Man". Robert said: "Our ancestors understood that in nature everything is linked up or interconnected". He was right - often our best inspirations come from the ancients, from the elders, from our grandfathers and mothers.
Robert Believed that everything in nature is part of the whole, and that it is only by caring for our earth that we can really look after ourselves. He was an inspiration across the historical divisions in SA society, but sadly, only received his public recognition in 1993 when he was Green Trust Award, a Department of Environmental Affairs Conservation Award - one year before his death.
Robert taught organic agriculture and agroforestry to hundreds of people in and around his community, and practised diligently what he preached - sadly I never knew him, and had to travel and train around the world before I got to know this amazing man from my own country while doing research for a presentation sitting in Korea, decades after his passing.
How many living inspirations do we all have? Who inspired you, and why? Were they farmers or teachers? Princes or paupers? Parents or politicians?
Our inspirations can have many origins, and they come n many sizes and shapes - their common denominator is that they left us better than when we found them.
Thank you, Robert.  You remain a giant. And I remain privileged to stand on your shoulders in order to see the far horizons.
https://live.fundza.mobi/home/library/non-fiction-articles-profiles/the-tree-man-robert-mazibukos-story/